---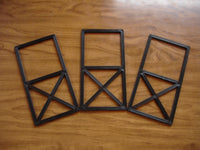 You are looking at Black Little Plastic Decorative Doors for Lighthouses, Lawn Ornaments etc.
When you are building lighthouses
or mini-mini barns etc. these little doors add some character to your project.
You just use mini nails, or glue to fasten them to your project.
These are the ones NMW Crafts uses for the lighthouses on this web. site.
Door Dimensions
Width: 3" inches
Height: 6" inches
Thickness: 1/8th inch
Items Included