---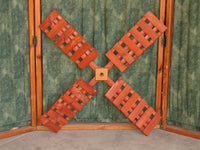 You are Looking at a Cedar Dutch Windmill Replacement Paddle:
Made from Kentucky Red Cedar
, our dutch windmills are stained with a weather resistant stain, but still maintain the rich beauty of the red cedar.
NMW Crafts Cedar windmills are a step above anything you have seen, one
look at our quality and craftsmanship and you will know why we are
confident that you will not find a better made windmills anywhere.
The sturdiness of solid wood marries with classic design details in our
windmills. These universally appealing lawn ornaments add a
charming focal point.
This and all NMW Crafts products are made in our small shop in Perrinton, MI
---
Quality and Customer Satisfaction are our number one goals in every lighthouse we produce and we offer a variety of styles to suit your taste. Please email us if you have any questions.
---
Includes
1- Blades.
Some assembly is required to make it work.
Paddle Sizes
43 inch paddle fits nmwcrafts 5 ft. poly dutch windmills
32 inch paddle fits nmwcrafts 46 inch poly dutch windmills
21 inch paddle fits nmwcrafts 30 inch poly dutch windmills